Additional Resources
Transitional Care With CorsoCare
Seniors and their families don't need surprises as they move from one care setting to another. They need a trusted guide to navigate their unique health care path.
The health care system can be tricky to navigate. Every individual's care plan is unique to them, and when changes happen with their health care process, it can lead to errors, confusion and a lack of communication.
That's where our transitional care program can help.
Through transitional care, you work with an expert CorsoCare Navigator to ensure the seamless execution of your personalized care plan.
How Does Transitional Care Work?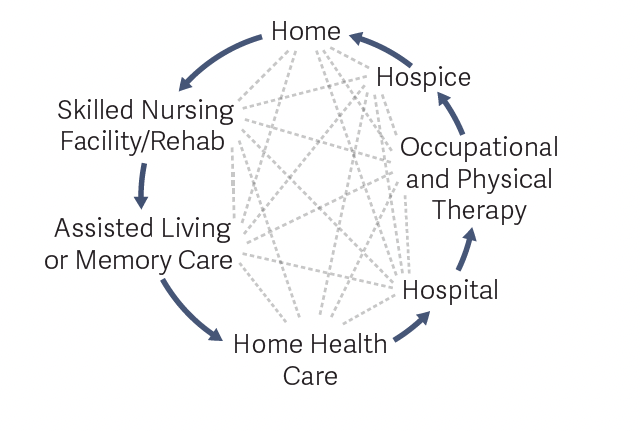 When someone is admitted to a hospital, a comprehensive plan of care is established. Healthcare practitioners craft a plan unique to your goals and needs.
However, this can present an opportunity for errors or gaps in care.Plans often include coordination between various medical professionals in different care settings.
To guard against errors and prevent hospitalizations, your CorsoCare team will step in to advocate on your behalf.
Your CorsoCare Navigator will be with you every step of the way during the recovery process. They educate patients and families to prevent causes of potential poor outcomes such as medication errors, falls and worsening health conditions.
As your advocate, our CorscoCare Navigator will:
Ensure continuity of care for patients as they move from one level of care to another across various providers and settings.
Initiate bedside coaching early in a patient's journey to support transition back to their home environment.
Help identify warning signs and remove barriers to provide a safe discharge.
Care coordination and schedule follow-up appointments.